SUNDAY MORNING WORSHIP: 10:30AM
MILTON-FREEWATER, OR 97862
Click
HERE
for directions
MON – FRI / 8:30AM – NOON
bethelbaptistmf@gmail.com

Bethel Baptist Church is a local fellowship of believers confessing Jesus Christ as Savior and Lord. Our mandate given by our Lord is clear: "Go…make disciples…baptizing them…teaching them to observe all that I have commanded you" (Matthew 28:19, 20).
Our mission is to exalt Jesus Christ as Lord and reach people for Him. We believe that Jesus Christ is exalted through the expositional preaching of His Word and genuine Spirit-filled worship. We aim to "present everyone mature in Christ" (Colossians 1:28). Disciples are made through faith in the gospel of Jesus Christ. They are grown through fellowship within the local church. By God's grace we seek to be ambassadors for Christ, persuading sinners to be reconciled to God by declaring that Jesus Christ has "made peace through the blood of His cross" (Colossians 1:20). We trust you'll discover God's grace among us. Our prayer is that we'll live up to His name.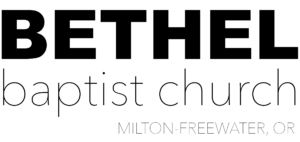 What is the Gospel?

What We Believe

Leadership Team
Teaching and Study at Bethel
Mar 7, 2021

Sunday 3.7.21

Feb 28, 2021

The Astonishing Beginning of the Christian Church, Part 4

Feb 21, 2021

The Astonishing Beginning of the Christian Church, Part 3

Feb 14, 2021

The Astonishing Beginning of the Christian Church, Part 2

Feb 7, 2021

The Astonishing Beginning of the Christian Church, Part 1

Jan 31, 2021

Replacing Judas

Jan 24, 2021

Motivation to Proclaim: Looking for Our Lord's Return

Jan 17, 2021

Power of Proclaim

Jan 10, 2021

The Book of Acts: The Blueprint for the Church

Jan 3, 2021

Knowing, Loving and Serving God
Bethel Baptist Church
209 SW 1st Ave.
Milton Freewater, Oregon 97862
Phone: 541-938-3111
DAILY READING/DEVOTIONALS:
We can't wait to meet you! We understand that it can be intimidating to attend a new church for the first time, so we hope to make your visit as easy as possible! Below is information about our worship service and Sunday school programs. We hope this will put you at ease, and please email or call with any other questions!
Bethel is located in Milton-Freewater, right next to the high school football field. There are parking lots on both the East and West sides of the building, or there is street parking out front and on the East side.
What services and times to you offer?
We offer age-divided Sunday school for all ages beginning at 9am. When you enter the front doors, you will meet our friendly greeters who will escort you and your family to the correct location.
Our family worship service begins at 10:30am and is located directly inside the front doors of the building.
How long does the service last?
Our worship service last approximately 90 minutes. We begin with worship through singing and prayer and then finish with worship through teaching. The teaching is approx. 45-60 minutes and then we close with singing. We observe communion together as a church body the first Sunday of the month.
What programs are offered for my kids?
Here at Bethel, your children are very important to us. We take their care and safety very seriously. All of our volunteers are selected, interviewed, background checked and trained in order to give the best and most nurturing care possible.
Starting at 9am, we have Sunday school for all ages. This is a time where children are divided into age-appropriate groups so that they can be taught God's Word at their learning level. We use a curriculum that takes children through the Bible every 3 years. The study is in-depth and fun as they learn essential truths from God's Word! So, no matter what age you are, there is a Sunday school class for you!
Starting at 10:30am, the whole family will begin in the main sanctuary for the family worship service. After we worship the Lord through singing and prayer, children kindergarten and under will be excused to children's church where they will learn about God's Word from our trained staff. Nursery is offered for ages 3 and under.
As you enter the front doors of the building, our greeters will help you through every step of the check-in process and then escort you and your children to your classes!
For more information on our children's classes and what is taught, please see our Bethel Kids page!